Products of Meat Industry IMEL, Ljubinje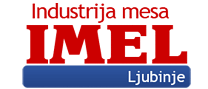 In its product range Imel Ltd is producing finished products from the finest red and poultry meat. Products made in our plant facilities are characterized by high nutritional values, quality proccesing with tastes of products adapted to a wide group of consumers.
From 2010. IMEL Ltd in its product range, with facilities of 3400m2, is producing finished products of renowned European brands as well as labels of famous European retail chains.
During 2013. IMEL Ltd has invested in extention of its product capacities, wich resulted in lanching of mortadela production under the brand QUEEN ITALIANA.
Finished products are divided into the following groups:
Fermented dry sausages
Dry sausages are packed in different forms and package starting from 300 gr, 330 gr, 480 gr, 500 gr, 600 gr package, all to accommodate the needs of our customers.
Heet processed sausages
I)Nicely chopped cooked sausages
Chicken special
Chicken hot dog
Nicely chopped cooked sausages are filled in casings of different sizes starting from fi 22 (chicken hot dog) to fi 45,70 and 90 filled with chicken special sausages. Packings for chicken hot dogs are from 100 gr to 750 gr, and for chicken special sausages from 350 gr, 800 gr, to 2500 gr.
II) Roughly chopped cooked sausages
Krainer sausage with cheese
Krainer sausage
Mortadela
Mortadela with olives
Pizza ham
Ham in casing
Roughly chopped sausages are exclusively made from pork meat.
Meat jelly - heet processed meat
Semi-dried smoked fermented products
Smoked ham
Smoked rolled shoulder
Deli fried ham

Smoked meat products are made from the finest parts of pork meat.

Bacons - semi-dried cooked sausage

Hamburg bacon
Double bacon

The whole tehnological process is carried out in a high tehnolological level, according to quality control system ISO 22000:2005 as well as HACCP standard.







Give us feedback